Category Archives:
Sport
ISDAA HALL OF FAME TO CELEBRATE 25th ANNIVERSARY
WITH RECOGNITION OF ISD'S USA ATHLETES IN DEAFLYMPICS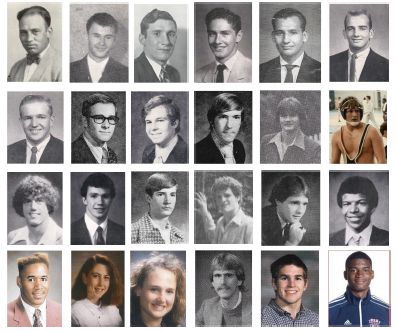 1st Row: S. Robey Burns; John Chudzikiewicz; Wayne Otten; William VanSpankeren; Robert Montfort; Don Phelps.
2nd Row: William Zachariasen; Mike Ubowski; Dan Fitzpatrick; David Gurley; Mike Aubry; Robert Mansell.
3rd Row: Jeff Brown; Charles Hammack; Ronald Mattson; Steve McLeod; Paul White; Kevin Smith.
4th Row: Eric Smith; Nikki Surber; Brandy Tetzlaff Hayes; Steve Haynie; Luke Zurkamer; Dwayne Esper.
24 ISD Alumni who have participated in the USA Deaflympics, also known as CISS and World Games for the Deaf in the past years, will be recognized at the ISDAA Hall of Fame's 25th Anniversary fete. Even though six of those participants are deceased, it is hopeful that most of the remaining 18 USA athletes from ISD will be able to make the trip to Jacksonville and receive recognition for their Deaflympics participation during the Hall of Fame banquet.
Location of the banquet has been moved to Reichert Banquet Bar and Grill located at 1852 South Main Street in South Jacksonville. This place has spacious space and with no obstructive poles to interfere and has an overhead projector to show the powerpoint slides of all the Olympians as well as other items in the agenda for all of the audience to easily follow through.
Banquet tickets are now on sale and please contact Tonya Logsdon if you have any questions or concerns about the banquet or the event. Her email address is (5teqrose@gmail.com). For other information regarding the Hall of Fame, contact Bob Dramin, Hall of Fame chair at (bdramin@aol.com)
Cost of dinner is $25.00 and must be purchased before September 25th. All tickets sold after that date will be $30.00. So, please hurry and purchase your tickets from one of the Hall of Fame committee or use the coupon (ISDAA 25th Anniversary Hall of Fame Banquet) to print and mail it to Tonya Logsdon.